Pastor Malachi Micheaux Sr.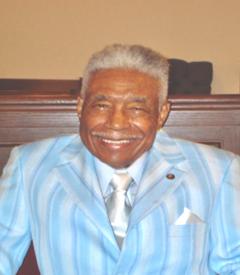 While in the Air Force in 1957 Pastor Micheaux was saved, sanctified and filled with the Holy Ghost. In 1962 when he was stationed in Greenland, it never occurred to him that the dream he had would reveal to him his future.
He dreamed that he was with a minister. Although he could never see this minister, he always sense his presence in the services. In that dream there was a pivotal location that remained stamped in his mind. "a corner where two roads met".
During the latter part of 1966 when he was station in Great Falls, Montana, his brother in-law began to write and tell him about the great revival and services that were going Faith Tabernacle Chandler, Texas. They talked about Poppa (Elder J.D. Hamilton) as that little man.
Although he was born and raised in East Texas and remained there until he went into the service, he had never even heard of Chandler. In Chandler he found a stir of revival services being conducted by the later Elder J.D. Hamilton under the power and anointing of the Holy Ghost.
He was so impressed and overwhelmed with the freedom of the Holy Ghost, and the gospel uttered from the man of God, that he wanted to become part of this great move of God. After becoming a member of Faith tabernacle and traveling with the church in the tent revivals, the pivotal location shown in his dream came to mind. The church Faith Tabernacle Chandler is located on the corner where two roads met, and all of the tent revivals that he attended held on a corner where two roads met.
He was appointed to become the assistant pastor and that dream came alive. Since the death of our founder in 1998 Pastor Micheaux has continue to build on the foundation of the Man of God.
A humble man Pastor Micheaux presents the Gospel in a way that as he lifts up Jesus the Lord draws. He loves Gods people and uses the wisdom of the Lord to admonish the body of Christ to love the Lord and keep His commandments. We are so blessed to have him as our leader and continue to look forward to see how the Lord will us him.
On July 21,2018 God called Pastor Micheaux from labor to his heavenly reward, leaving behind a rich legacy and impact on God's people. We as the Faith Taberncacle Church Family will never forget him.
July 15, 1994 - Worship the Lord